Where luxury meets comfort
Relax and unwind in style!
Discover a new level of impeccable service and luxury at our hotel.
Welcome to our urban oasis, where style meets comfort and convenience. Our Elegant Hotel Pyi Thar Yar offers the perfect blend of modern sophistication and warm hospitality. With sleek and stylish guest rooms that feature all the amenities you need for a comfortable stay, 
With our prime location, you'll be just steps away from all the best dining, shopping, and entertainment options that the city has to offer. Whether you're here for business or pleasure, our hotel is the perfect base for your urban adventure. 
, Elegant Hotel Pyi Thar Yar, a six-story building with 56 well-appointed guest rooms. All rooms are fully equipped with working desk, carefully chosen amenities, a flat screen TV, air conditioning, a minibar and you can stay connected during your stay as Elegant Pyi Thar Yar Hotel offers guests free wifi. The hotel features 24 hour front desk, a concierge and providing a pleasant respite from your busy day. So why wait? Book your stay with us today and experience the best of city living in style! 
Start your day off right with a delicious breakfast at our Little Asia Wake up to the aroma of freshly brewed coffee and the tantalizing smell of bacon sizzling on the grill. Our breakfast menu features a variety of tasty options, from hearty omelets and healthy smoothie bowls. And with our locally sourced ingredients and creative twists on classic favorites, you're sure to find something that will delight your taste buds. Whether you're fueling up for a busy day of exploring the city or just looking for a relaxing morning with your loved ones, our Little Asia is the perfect place to start your day. So come on in, take a seat, and let us serve you a breakfast that will leave you feeling energized and ready to tackle whatever the day may bring.
Step into M Bar and be transported to a world of cocktails, craft beers, and good times. Our expert mixologists will shake up your taste buds with their signature concoctions, while our carefully curated selection of beers on tap will satisfy even the most discerning beer lover. Whether you're looking for a cozy corner to catch up with friends or lively atmosphere to dance the night away, our bar has something for everyone. So come on in, pull up a stool, and let the good times flow!
The timeless M Bar is a unique sculpture created by Min Naing Htun, who bringing young business entrepreneurs together and popular for patrons who love fun navigation experience.
At our venue, we believe that every event should be a memorable one. That's why we offer a versatile space that can be customized to suit any occasion, whether you're hosting a corporate meeting, a gala dinner, or a milestone celebration. Our event planners are experts at turning your vision into reality, from designing the perfect layout to coordinating every detail, so you can focus on enjoying the moment with your guests. With state-of-the-art audiovisual equipment, high-speed internet, and a range of catering options, we have everything you need to make your event a success. And with our prime location in the heart of the city, your guests will love the easy access and convenient amenities. So why settle for an ordinary event when you can create an extraordinary one at our venue? Contact us today to start planning your next meeting or event.
Accommodates up to 250 people at a sit-down dinner or up to 300 Theatre seats for a conference.
It's perfect for any event from a private gathering to a wedding or anything in between.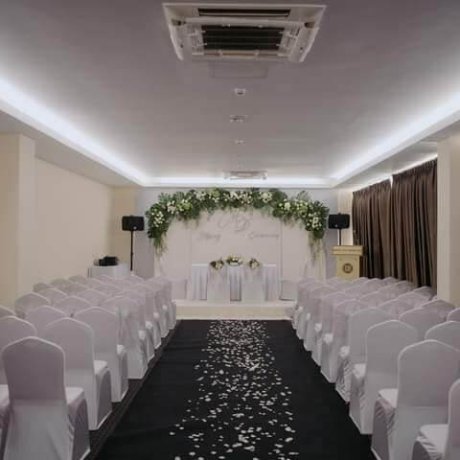 Book a Wedding Package from Kyat 100,000++ per table with minimum 20 tables and enjoy complimentary high-tea.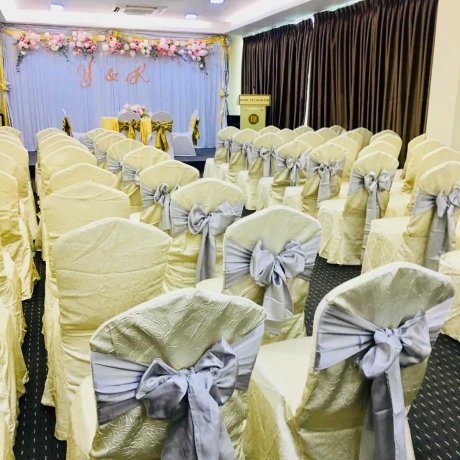 Say 'I do' to the wedding of your dreams – our tailor-made package will make it a beautiful reality!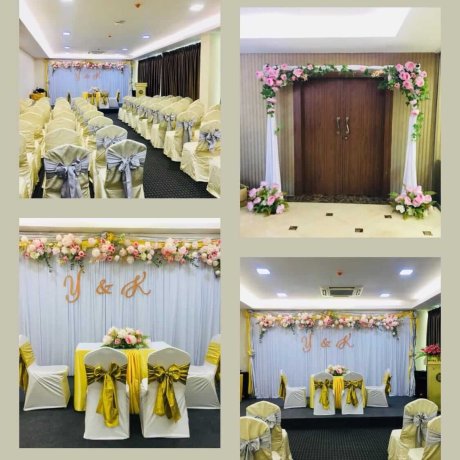 To learn more about hosting a meeting, event or conference at Elegant Hotel Pyi Thar Yar, please email us and we will reply with a proposal tailored to your needs.